Sunday, June 30, 2013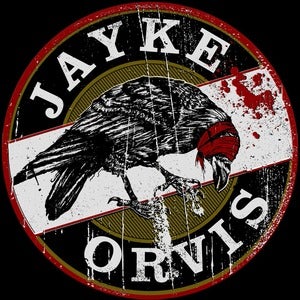 Growing up in Milwaukee, Wisconsin, Jayke Orvis always had eclectic music tastes, even at a young age. Introduced to classic Country and Bluegrass early on by his father, he soon took a liking to Punk and Metal as well, and eventually began cutting his teeth on stage in Punk bands. However, his early introduction to Country and Bluegrass stayed with him, after a time he picked up playing Mandolin and soon found himself involved in the Underground Country/Roots music scene. In 2004, Orvis along with Joseph Huber on Banjo, Derek Dunn on Guitar, and Rick Ness on Stand up Bass formed The .357 String Band.
Over the next several years, The .357 String Band honed their talents, playing countless shows at seemingly ever dive bar in America. The group were setting a new precedent within the Country Underground, yes, you could call them "Punks turned Pickers" but they were these guys were not your average Punk Rock kids, playing 3 chords, then picking up Banjos and Mandolins. All 4 of them were extremely talented musicians who took the technical ability and skill involved in playing Traditional Bluegrass very seriously, but they molded Bluegrass and its many traditions with their Punk/Metal backgrounds, incorporating much of the attitude of Punk and Metal, as well as some of its themes, and in doing so created their own unique style that they dubbed "Streetgrass." In 2006, .357 released their debut album, "Ghost Town", and continued to grow their fanbase. The album featured a number of great songs that embodied the idea of "Streetgrass", combining blazing Bluegrass that could appeal to Bill Monroe fans, but coupled with lyrics about drinking, drugging, depressing, misery, and Hell. They were forging their own path, while simultaneously courting a growing legion of fans and influencing many a young band. The band continued on as tireless road dogs, playing shows, further their abilities and writing new jams. After 2 years of touring behind their debut, 2008 would see .357 release their sophmore album, and crowning achievement, "Fire and Hail".
It is a masterpiece that finds the band at the pinnacle of their abilities as a group. The chemistry and songwriting is topnotch as well, and the record truly stands as a high water mark for Underground Country and Roots music. "Fire & Hail" also sees Jayke Orvis begin coming into his own as a writer and a performer. Songs like "Blackship" and his amazing duet with Rachel Brooke, "Hold Me Tight", illustrated just how good Orvis had gotten on his own. Sadly, this record would be the final .357 String Band album featuring Jayke and the original line up. In June of 2009, Jayke was ousted in a suprising move to many, including him, from the .357 String Band. He was replaced by Billy Cook, and .357 would go on to release one more album, 2010's "Lightning From The North", before calling it quits in November 2011. Despite his suprising removal from the band he helped start, Jayke quickly rebounded and ultimately came out ahead. Only a month after finding himself without a band, he joined one of the best, most interesting groups around today, The Goddamn Gallows. Orvis's 2nd "post .357" move was another big one. Only 1 year after his departure for .357, Jayke Orvis would release his debut album as a solo artist, "It's All Been Said".
If that wasn't a big enough deal as is, Farmageddon Records would be founded around the album's release, making it the debut release for the label. Farmageddon would go on to become a force in Underground Country and Roots music, releasing albums from a large roster of great artists new and old, including The Goddamn Gallows, James Hunnicutt, Black Eyed Vermillion, Stevie Tombstone, Owen Mays, Rachel Brooke, J.B, Beverly and many more. To Jayke's credit, "Its All Been Said" is a excellent debut and as deserving an album, to start a label behind, as any.
The songs are all great from the amazing Bluegrass instrumental "Yankee Taste", the dark, somber "Feelings Like This", to the quiet, singer/songwriter folk of "Beatin' My Head" and "Broken Bottles on an Empty Shelf". Then there's faster, fun songs like "Thunderbolts and Lighning and their take on the Traditional Bluegrass jam "Shady Grove Gypsy", a murder ballad in "Gone Forever More", or catchy, fan favorite "Streets" with its singalong chorus and guest spot from J.B. Beverly, and what you might call the album's "single", the vigilante justice jam of "Dreadful Sinner", for which a great music video was made. There's also a hidden track that features James Hunnicut, which is sampled in the album's audio collage, intro "A Recipe For Tea". All in all, it was a phenomenal debut album, and one which ultimately helped garner Jayke the 2010 Artist of the Year award from Saving Country Music. On the album, Jayke's songs were brought to life with help from a great cast of musicians that included James Hunnicut, "Banjer" Dan Mazer, Old Timey Avery, Johnny Lawless, Geo Balentine, & J.B. Beverly. Orvis soon hit the road in support of the record with his backing group, The Broken Band, which aside from James Hunnicutt on lead guitar and backing vocals, was largely a revolving door of musicians, early on. 2010 also saw the release "Swappin' Spit", via Farmageddon Records, which marked Jayke's first appearance as a member of The Goddamn Gallows. "Swappin' Spit" was a split album, of sorts, between The Goddamn Gallows and Black Eyed Vermillion, and was released only on Vinyl.
Side A of the record features The Goddamn Gallows covering 4 Black Eyed Vermillion songs, "20/20", "Jesus In The Waiting Room", "Helping Hand, and "Bones To Pick". Side B has Gary Lindsey & Black Eyed Vermillion covering 4 Goddamn Gallows tunes, that include, "Born To Lie", "Pass The Bottle", "Wanders", & "Don't Feed Me". The album, and Side B, closes with a collective jam featuring members of both The Goddamn Gallows and Black Eyed Vermillion, plus James Hunnicutt, who all come together to record a mind blowing Countryfied/Roots cover of Venom's "In League With Satan". The entire album is great, and its really cool to hear the 2 different groups reinterpret each other's material, not to mention the group effort. Jayke's presence on the Gallow's songs is immediately heard, as his mandolin playing helps flesh out the songs and continued The Goddanm Gallows' evolution from Psychobilly Punk to a Roots act with some Punk influences. This continued growth is even more prevalent on The Goddamn Gallows next full length album, and 1st to feature Orvis as a full time member, 2011's "7 Devils".
Orvis continued touring with the Gallows as well as touring on his own material as Jayke Orvis and The Broken Band often touing together so as to allow Jayke to do both the Goddamn Gallows and his own stuff. Fast forward a couple years and in the spring of 2013 Orvis and his Broken Band partners would get around to recording the follow up full length to their debut, "It's All Been Said". Jayke along with a solidified Broken band rounded out by James Hunnicutt, Liz Sloan, and Jared McGovern, as well as a few others including Joe Perreze wrote and recorded the sophmore LP, "Bless This Mess" and saw it released in late April again through Farmageddon Records.
"Bless This Mess" is an amazing album that may will for sure be on many year end Best Of lists and may prove to be the best Roots Music album of 2013. From the killer Bluegrass instrumentals like "Murder of Crows" or "Clankertown" to more singer/songwriter type jams like amazing "West Wind" or the swinging "Crooked Smile". The record is full of stand out tracks that both show the great musicianship and songwriting ability of everyone involved. The originals are all exceptional but so are the few covers like Hank Williams' "Kaw Liga", Ralph Stanley's "Bound To Ride", or The Weary Boys' "Pick Up The Steam". The album also closes with a sort of cover song "Blackship" which was written by Orvis but did previously appear on a .357 String Band record, similar to the way Orvis' "Raise The Moon" was also first featured on a .357 album but later appeared on The Goddamn Gallows' "7 Devils". With a track record like Jayke has being a founding member of The .357 String Band, a sometime member of The Goddamn Gallows, 2 amaing "solo" albums, and a solidified Broken Band backing him up, the Country/Roots Underground would not be the same without his contributions. The future is Orvis' to dominate if he continues to make great records on his own or as part of a group effort. I cant recommend seeing Jayke Orvis and The Broken Band enough, as you would be hard pressed to find a better band live or on record in 2013.
Andrew Glen Sweitzer