One of the single most interesting, original, and amazing bands in existence today is a band called The Goddamn Gallows. Their music defies easy classification, containing elements of Punk, Harcore, Blues, Folk, Country, Bluegrass, Americana, Gypsy, Rockabilly, Roots, etc, it continues to evolve with each record, and as they have added members along their travels. The band originally formed in Lansing, Michigan in 2004 as a 3 piece, featuring Mikey Classic on Vocals and Guitar, Fishgutzzz on Upright Bass, and Amanda Kill on Drums. In the beginning, the band was simply called The Gallows, using this moniker on their 1st couple releases, before adding the "Goddamn" to prevent confusion between themselves and the British Hardcore band, The Gallows. This early version of the group began jamming and headed West. In 2004, they dropped their 1st release,"The Gallows" EP, which was at the time, self titled. From there, the nomadic group continued bouncing around from Portland to Hollywood living anywhere they could from squatter camps to abandoned buildings, alleys, storage units, and anywhere else they could. Their filthy mixture of Hardcore/Punk, Psychobilly, and bits of Roots music began to gain them a bit of attention. The following year, 2005, they would release their 1st full length album, "Life of Sin".
This record would be the final release with Amanda Kill on Drums and also their final release as The Gallows. "Life of Sin" would feature strong elements of Punk and Psychobilly, and although it doesn't have nearly as much influence from Roots/Country/ Bluegrass/etc as later records would, there are still traces. Also included on the record is a cover song, performed with their own flair, something they would continue to do on each LP. The cover jam on here is "Wreck of the Ol' 97" which has been performed by many, many people over the years, including The Statler Brothers, Flatt and Scruggs, Woody Guthrie, Pete Seger, Hank III and many more, with one of the most well known versions being done by by Johnny Cash. 2006 would see the Baby Genius join the group, replacing Amanda Kill as their Drummer, more shows and the writing of new material. In 2007, the group would release their 2nd full length "Gutterbilly Blues", Baby G's 1st album with the band and the group's first effort with their new altered name, The Goddamn Gallows.
"Gutterbilly Blues" would serve to continue the musical path set out on "Life of Sin", but also hinting at what would come later as they were coming into their own and blurring the lines between genres. Much of the record still is strongly rooted within Punk and Psychobilly but there are also jams like "Born To Lie" which indicate a greater Roots influence that would continue to grow with in the group and show up in greater amounts on subsequent releases. The cover song on this record would be a rockin' version of Ray Charles "I Got A Woman", with some interesting lyric alteration. The record also would give a name to the group's style with people now calling their music "Gutterbilly", with other strange descriptors coming along over the years like "Gypsy Punk" and "Hobocore".
At this point, The Goddamn Gallows essentially became a full time effort for the 3 men involved, as they would hit the road and more or less stay there for the next several years, with only brief breaks. This breakneck pace would continue with the band usually playing well over 200 shows a year, a feat that would destroy most bands, and brings to mind another band who did it themselves, their own way, with a tireless work ethic and great artistry. That band is Black Flag. Fast forward to 2009, in which, our band of miscreants find another piece of the puzzle, during their travels, in St. Louis, MO. This addition would be a wild man known as TV's Avery; a fire breathing, accordion squeezing, washboard & spoons player, who would also occasionally play drums. Avery would prove to be a very important acquisition, and helped push along the group's continually evolving style, as evidenced on their 3rd LP, 2009's "Ghost of th' Rails".
GOTR finds The Goddamn Gallows quickly making great use of Avery's Accordion, Washboard, and Spoons skills on many tracks increasing the Roots,Country, Folk/Americana elements on tracks like "Ghost of the Rails" and "Underneath the Stars", while Banjo is also incorporated by Mikey Classic furthering the twangy sound of some of the record. Meanwhile, other tracks on the record are aggressive as hell, fully embracing their Hardcore/Punk roots, particularly violent jams like opener "Heavens" and "City of Hell-A". Many tracks also find embrace both extremes of the Gallows influences, such as "Smoke Satan" which has Rootsy parts but then also violent aggro parts. The boys also continue their tradition of interesting cover songs with the inclusion of "Planet of the Apes" by The Mummies. Not long after the release of "Ghost of th' Rails", The Goddamn Gallows picked up another stray musician. This time it would be super picker Jayke Orvis, who, at the time, had recently exited The .357 String Band (a group he helped found), and within the next year would release his 1st "solo" album "It's All Been Said" to much acclaim, which also happened to be the 1st release from Farmageddon Records, who would later release/re-release much of The Goddamn Gallows material. The group's next release and 1st to involve Orvis would be "Swappin' Spit", a split/collaborative record with Gary Lindsey's Black Eyed Vermillion.
"Swappin' Spit" would feature The Goddamn Gallows covering 4 BEV jams, "20-20", "Jesus In The Waiting Room", "Helping Hand", & "Bones To Pick". Gary and Black Eyed Vermillion would cover 4 Gallow's tunes, "Born To Lie", "Pass Me The Bottle", "Wanders", and "Don't Feed Me". The final track would feature both groups as well as James Hunnicutt performing an amazing Roots version of Venom's "In League With Satan". "Swappin' Spit" was released on Vinyl only by Farmageddon Records, but has since been made available for Digital Download as well through CD Baby. The next step in the Goddamn Gallows journey would come with the release of their 4th LP, "7 Devils", in 2011 through Farmageddon.
At this point, the line up including Baby G on Drums, Mikey Classic on Guitar and Vocals, Fishgutzzz on Upright Bass and Vocals, TV's Avery on Washboard, Spoons, & Accordion, and Jayke Orvis on Mandolin and Banjo. Joe Perreze would also play Banjo on much "7 Devils" and soon become a fulltime member. Andy Gibson, who recorded the album, would also contribute Lap Steel to the record, and in doing so adding another element to their already robust sound. "7 Devils" is the next logical step for The Goddamn Gallows, it follows their sound to new extremes in multiple veins. Its got furious, Hardcore/Punk jams like "Sidewalk Slammer" and "Stew Hogg", but also has very Country/Folk/Bluegrass inspired jams like the title track, "7 Devils", their stellar cover of Townes Van Zandt's "Waiting Around To Die", and Mikey Classic's acoustic tune "Nature of the Beast" which is beautiful yet powerful in its quiet reserve. Orvis's Mando playing, coupled with Joe Perreze's Claw Hammer Banjo, and Andy Gibson's Steel work give the record and increased dose of Rootsiness that pays off in spades. Also, Avery's increased use of Accordion, on tracks like "Instant Major Felony" or "End Of The World", also plays into the strengths of the album making it very diverse. Its an album that can appeal to people from numerous scenes but without compromising their integrity in anyway. The record also features a blistering version of "Raise The Moon", written by Orvis, which had previously been recorded by his old group The .357 String Band.
Since the release of "7 Devils", the group has been constantly on the road playing here, there and everywhere in between. For awhile, many of the tours included Jayke Orvis and The Broken Band, allowing Jayke to tour for his solo album as well as doing the Gallows. Joe Perreze would also pull double duty for most of these shows as he was playing Banjo in Orvis's Broken Band and The Gallows. Over the next couple years of shows and writing the group has continued to raise their profile and increase their fan base. 2013 would see Jayke Orvis & The Broken Band release their 2nd album, "Bless This Mess", in the spring, which features some guest spots from some of the other Gallows members. This would bring to a close another chapter for the group as Jayke would exit the group, on good terms, to focus on his own project and allow both groups to seperately tour. Perreze, who had been playing with both groups, would also have to limit himself to one group in regards to touring and therefore exited The Broken Band to focus on the Gallows. Just in time for summer, Farmageddon has released a limited edition acoustic Goddamn Gallows EP that was recorded in a Tattoo shop back in 2010. Its limited to 200 copies so if you want one, you better get on it 'cause they won't last long.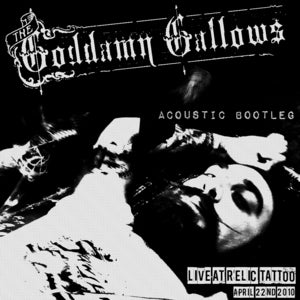 Currently, The Goddamn Gallows have been working on their upcoming 5th LP, with the primary recording having just been finished I believe. At recent shows, they've been playing some new material including "The Maker" and "Ragtime Sinner", which can currently be checked out in live form on their official website and/or Youtube. The new record should be out by October, at the latest, and I'm quite certain will rank near the very top of my Best of 2013 list. The Goddamn Gallows have reached a point where they literally sound like no one but themselves. They have taken their wildly varied influences and molded them into a sound all their own. They don't really fit perfectly anywhere and yet they can squeeze their way into almost any music fan's record collection with skillful musicianship, honest and interesting songwriting, and a uniqueness that is a testament to the characters involved.
Aside from crafting some of the best music in any genre or scene, Underground or otherwise, they also boast the best live show of any you are likely to have seen in years. Equal parts Punk Rock destruction, Circus Side Show, Hardcore power, Vaudeville Comedy, and Roots/Folk passion, their's is a show NOT to be missed. So in short, buy their records, go to their shows, and most of all, enjoy yourself...But remember...Don't Feed Avery...
http://www.thegoddamngallows.com/
https://www.facebook.com/goddamngallows
http://www.farmageddonrecords.com/
All artwork belongs to it's respective owner(s) ie Goddamn Gallows, Farmageddon, etc. Live photos are courtesy of Bethany Sweitzer and were taken in Terre Haute, IN @ Ole Simrell's 6/19/13.
Andy Sweitzer/Dodo Bird 2013